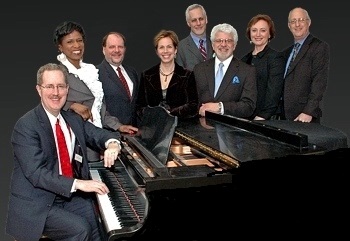 A (Habeas) Chorus Line™ is Michigan's top parody-satire group and one of the longest-running groups in the nation. Formed in 1992 for what we thought was a one-time engagement for the Detroit chapter of the Federal Bar Association, we have since performed more than 175 shows at venues throughout Michigan and around the country.
While the prospect of lawyers singing may strike some as incongruous (a good lawyer word), AHCL has proven to audiences that satire is not necessarily what closes on Saturday night. From local issues to national and international events, from judges and lawyers to politicians and celebrities, AHCL is an equal-opportunity lampooner.
Our material includes parodies of existing songs as well as original numbers. We parody lots of show tunes and pop numbers.
We can tailor our material for our audience. While we have played for many bar associations and lawyer groups, we also frequently play for non-lawyer audiences. We've played for metal finishers and dentists, chambers of commerce and synagogues, medical charity events and Masonic associations. You certainly don't have to be a lawyer to "get it."